High-Rise Hoisting Systems
Move materials from truck to floor without slowing down the tower crane or elevators.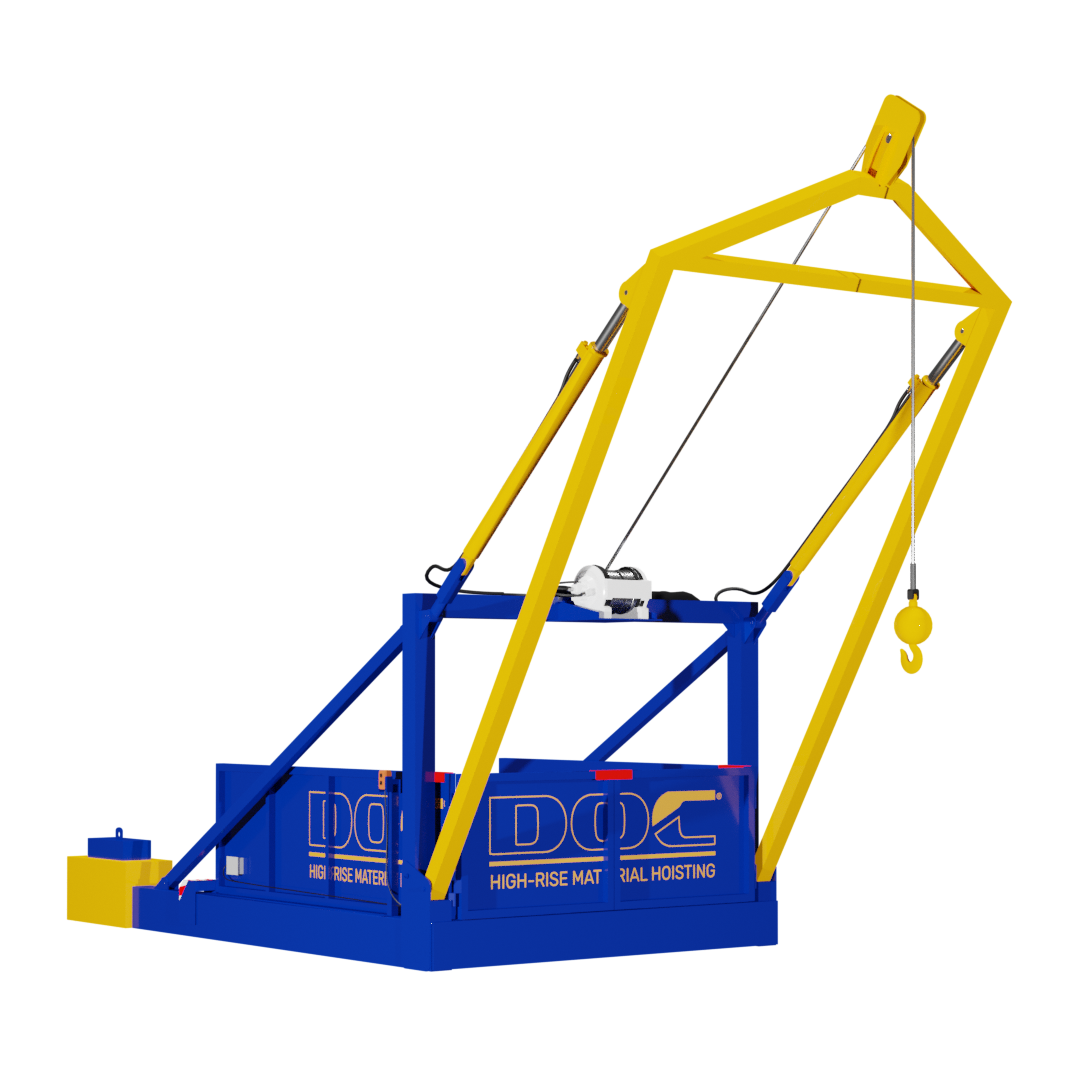 Keep the tower crane on-task and finish the project faster.
When the tower crane stays on-task building the structure taller, you'll finish the project faster. Contractors using a DOC® Hoisting System are able to move more material than an elevator without slowing down the tower crane. Less demand for the elevator means less waiting and increased productivity.
DOC® Material Hoists are capable of hoisting 8,000lbs of bulky materials that normally wouldn't fit inside an elevator. An extendable jib allows the DOC® Material Hoist to extend outward from the building, making it possible to move very large materials like curtainwall and pipe directly off the truck, straight to the floor.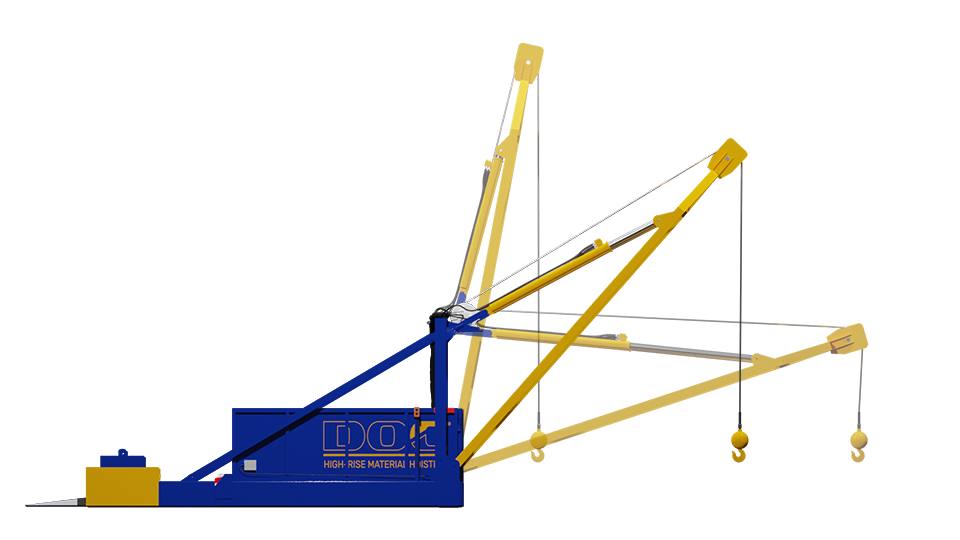 Luffing boom allows for extra-long materials to be rotated and maneuvered into floors below.
Keep the tower crane on-task and let DOC handle the extra-long materials like pipe and curtainwall.  Trucks can be unloaded in a fraction of the time it typically takes waiting for the tower crane, reducing traffic congestion on the street and speeding up the project considerably.
Perfect solution for accessing inner floors on smaller projects.
For smaller buildings, remodel projects, or situations with limited access through exterior openings, our Material Basket can provide bulk material delivery to inner floors through a small window opening.  The lightweight Material Hoist can be mounted on practically any rooftop.
Having a DOC Material Hoist + Basket on-site drastically speeds up delivery of large bulky items like cabinets, plumbing, fixtures, electrical, and much more.
Ready to get started?
Give us a call today!
(360) 359-7147
The DOC Material Hoist solves many problems that add delays to high-rise construction projects:
Is your tower crane always running behind schedule?
Adding a DOC Hoisting System to your project allows sub-contractors to unload and deliver their own materials without taking time away from the tower crane.
Are your sub-contractors resorting to using the elevator to move their materials?
When the tower crane misses a pick time for materials, sub-contractors often resort to moving their materials in the elevator, adding wait time and slowing the elevator to a crawl.  With a DOC Material Hoist moving all of the materials, elevators can move people, improving productivity throughout the workforce.
Are you racking up significant overtime costs moving materials after-hours and on weekends?
When demand for the elevator and tower crane is high, many resort to moving materials during off-hours.  Keep overtime costs in check by adding a separate Material Hoisting System that can move materials during regular job site hours.
Do you have a tight job site or limited lay-down area for materials?
By unloading materials themselves, contractors using a DOC Hoist don't need a staging area to store materials on the ground.  The DOC Material Hoist can unload materials directly from the truck without touching the ground.
Available in multiple sizes to fit any project:
| Model | Width | Max. Deck Extension | Deck Length | Beam Length | Max Capacity |
| --- | --- | --- | --- | --- | --- |
| 6.5 Luffing Hoist with Deck | | | | | 8,000lbs Hoist / 7,000lbs Platform |
| 6.5 Luffing Hoist Modular/No Deck | | | | | |
| | | | | | |
| | | | | | |
| | | | | | |
Frequently Asked Questions
How do you secure the hoist?
Shore post at back end between hoist beams and floor above. – Engineering by GC.
Typical roof applications, counterweight back end of hoist.  Engineering by GC / Counterweight = R1 Reaction Per Side.
Max Height or Cable Length​
480v – 3 Phase Power: fused 100amp
Periodic inspection / cable inspection daily
Use – Wear factor will determine
Low Speed: 97′ First Layer per Min. to 140′ 5th Layer Per Min.
High Speed: 136′ First Layer Per Min. to 205′ 5th Layer Per Min.
Our products are built with quality steel and precision right here in America, with a Service and Support team built to match.
"DOC Loading Platforms have become an essential tool on any high-rise construction site. With the DOC on site, it's much easier to stay ahead of schedule and under budget. Hard to imagine how we used to do without it."
Ready to supercharge your high-rise construction project?
Just provide us with a few details to get started…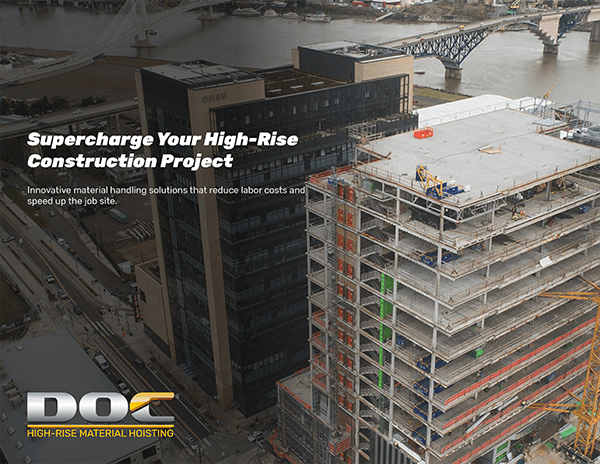 Download the DOC® Brochure
Our PDF brochure contains key features of the full line of DOC hoisting products, and includes detailed engineering specifications to go over with your team.